8 key benefits of SEO for your business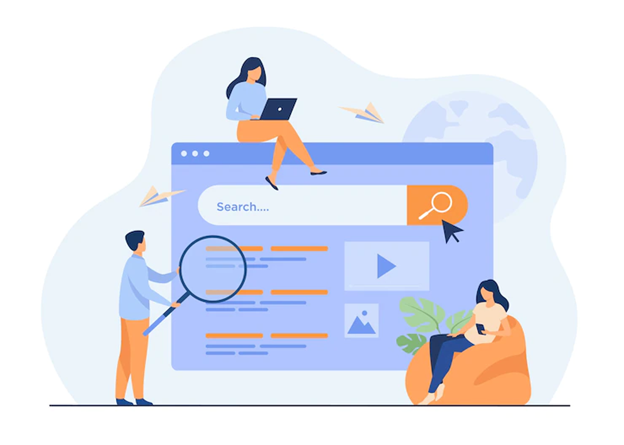 If you have a question, Google has the answer. That's what consumers all over the world are doing – searching for one thing or another on search engines.
So how can you stand out in the crowded digital landscape with 9.1 million retailers sharing the same space?
By improving online visibility.
A strong online presence can help your brand get the attention it deserves, drives more traffic to your website, improve sales, boosts revenue, and get ahead of the competition.
Sounds like a dream come true, right?
You can achieve all this and more by working on Search Engine Optimization (SEO).
If you're planning to invest in SEO, you've come to the right place. I'll discuss how your business can benefit from optimizing your web presence with SEO.
But first, what is SEO?
Search engine optimization is a process that improves online visibility by optimizing a website to rank better in search results. This includes various technical elements such as keyword ranking, on-page, and off-page optimization, content analysis, site performance, backlinks, mobile friendliness, etc.
But SEO can also help your target audience find your online business easily. And that includes understanding your consumers, their questions, and what they're searching for. So, SEO can connect consumers with your business by matching their needs with your products and services.
In other words, SEO focuses simultaneously on optimizing a website for search engines and comprehending what people are searching for.
Benefits of SEO
SEO is a long-term commitment, so don't expect results overnight. However, it offers exponential value to your business.
Interested in learning what they are?
Let's dig right in.
1. Improves Brand Awareness
Most businesses have a digital footprint these days, so customers prefer searching for products and services online. It means that your online presence can be pivotal in reaching out to more potential customers.
Since most customers search for services using search engines, your web content must be well-optimized to rank higher on the SERPs. This way, you can increase your brand awareness by appearing in the top search results. You can reach out to new customers, especially those in your locality.
Hence, you can use your online presence to build a positive brand image and sneak ahead of your competitors.
2. Brings More Loyal Customers to Your Business
Customer loyalty is a major advantage of SEO. Not only can you attract new customers but keep your current ones honest too. How?
Customer loyalty has a strong bond with brand reputation. When your brand is doing well in the market, customers can feel more comfortable buying your products again. Since SEO helps you build a solid brand reputation, customers will land on your pages whenever they search for services related to your business.
3. Boost Business Sales
Business sales are everything, and SEO can guarantee better sales for your business. Investing in SEO can build better online visibility for your brand, so more people will land on your website through search results.
As more people visit your site, it increases your chances of sales so that it can make a big difference to your business finances.
Moreover, customers are always keen on finding online deals. Hence, you can optimize your content and add sales deals to attract more customers to your website.
4. It's Budget Friendly
SEO doesn't cost you as much as some other marketing tactics. For instance, creating TV or online ads can be an expensive marketing solution. However, SEO is much more cost-friendly and helps you to get new customers organically.
So, it's cheaper and more sustainable in the long term. All you need to ensure is to write better online content that can rank higher on Google and other SERPs.
5. Improves Your Sales Conversions
When customers find your services in search results, it automatically increases your online traffic, which means better chances of conversions. That's why businesses facing problems with web traffic can dramatically improve their conversions with better optimization.
6. Upgrades Your Content Marketing Strategy
Marketing strategies are all about reaching more customers and generating productive leads. Perhaps, that's what makes SEO the ideal option for marketing in the digital space. When you create valuable content for users through images, videos, text, etc., it also needs to appear on search engines.
Modern search algorithms don't just count content value; they scan for keywords and search terms too. So, on the one hand, you must consider creating valuable content; on the other, it's about optimizing the same content using related keywords.
Hence, it is advised to look for professional SEO services in Florida or the state you reside in to upgrade your marketing strategies and get a better chance of generating more quality leads for your business.
7. Provides a Competitive Advantage
There might be many businesses around that are providing the same services as yours. So, what gives you a competitive edge over your rivals? SEO can be pivotal in deciding which service your customers opt for.
For instance, if you have well-optimized content, you will target the problems faced by customers more accurately. This means you can outrank your competitors on SERPs and get more clicks and traffic to your website. More than 90% of the web traffic comes from Google searches.
So, if you're missing out on SEO, you're leaving a huge chunk of potential customers for your competitors.
8. Get Better Search Ranks in Local Searches
Usually, the 'near me and similar searches form a good percentage of all searches carried out on Google. These searches are called Local Searches. Typically, these are all mobile searches for customers who are seeking quick services and products in the neighborhood.
So, by targeting local searches and optimizing your content with local search terms, you can improve your chances of appearing in the top search results in SERPs. Hence, it can help your business grow considerably.
Parting thoughts
Marketing and SEO go hand-in-hand in the digital landscape. Optimizing your content for better rankings on Google and other search engines can boost your business and help generate better leads and conversions for your business.