What Is A Hammock and What Are Its 5 Important Uses? 
Hammocks are indispensable camping gear that allows campers to enjoy comfort when exploring nature. Whether camping in the rocky ground, forest, or desert, hammocks offer unmatched flexibility and safety when sleeping. Although they can support substantial weight, they are compact and lightweight, translating to amazing portability.  
Apart from camping, hammocks are also used in homes. Some people sleep on them instead of beds due to their comfort and numerous benefits. The versatility that hammocks deliver makes them popular for outdoor and indoor applications.
Perhaps you have a hammock, but wondering what else you can use it for besides sleeping. Relax; we will look at the five cool uses of hammocks you should know.
What Is a Hammock?
A hammock is a fabric sling used for sleeping, relaxing, and swinging. The sling features fabrics, netting, and ropes for attachments between two anchoring points. Invented more than 1000 years ago in South American Mayan civilization, the suspended beds saved people from bugs and other dangerous creatures in the tropics.
How to sleep in a hammock? Well, that's the easy part. Once you have a hammock with a durable, high-quality fabric, simply anchor it between two supports and enjoy.
Here are the 5 Important Uses of a Hammock
1. Sleeping and Relaxing
The major reason why people buy hammocks is for sleeping purposes. Whether you are buying for indoor or outdoor use, these portable beds offer amazing benefits to users. According to Healthline, sleeping in a hammock has shown impressive sleep quality. People who sleep on these hanging beds experience deeper sleep and reduced insomnia.  
Apart from giving users good sleep, hammocks offer a better experience than sleeping on mattresses and waterbeds. Using these portable beds has shown that people who use them experience less pressure on the shoulders, back, and other pressure points. Normally, hammocks have soft fabrics that hug the body snugly. This reduces stress, leading to a more comfortable sleep.
Hammocks are always used when hanged, ensuring great peace of mind when sleeping. The satisfaction that you are safe from insect and other harmful organisms make sleeping and relaxation more fulfilling. The swinging action further soothes and improves the overall user experience.
2. Extra Space for Gear Storage
Space is never enough, whether at home or outdoors. But, when you have a hammock, it can offer a temporary storage solution. These fabrics have huge designs and are structured to carry heavy weight.
Hammocks are available in different weight capacities. A single hammock can accommodate 200-400 pounds, double hammocks 450-500 pounds, and heavy-duty up to 800 pounds. This implies you can use them to keep some of your extra stuff to free up space.
Since the materials used in hammock construction are tough, it's easy to hold massive weight without suffering damage. If you observe the weight limit, you can use your hammock to store extra items like books, water bottles, sports equipment, and gardening tools.
3. Improvised Tents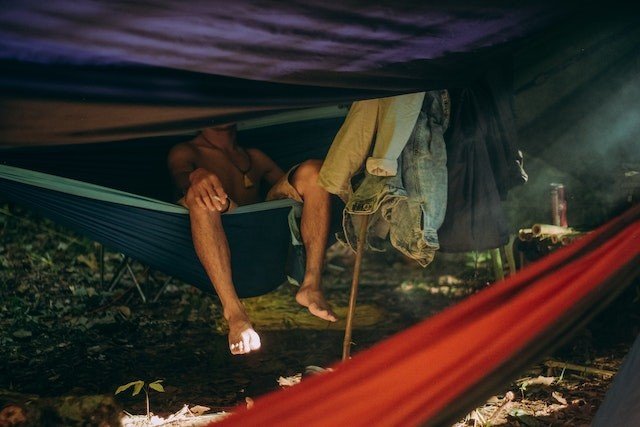 Imagine you are in the wilderness, and the weather suddenly turns unfavorable. What can you do without a tent? One handy item you can use to solve this is a hammock to counter the weather. However, it all depends on the kind of hammock you are using. They come in various materials, such as cotton, nylon, polyester, and others.
Choosing a weatherproof hammock is prudent for hiking and camping enthusiasts. You can easily transform it into an improvised tent in case of rain or hot sun. Hammocks range from 4-9 feet wide to 9-14 feet long. The size offers ideal shade to protect you from elements such as hot sun or rain. Besides comfort, hammocks are a remarkable part of survival gear.  
4. Kid Swings
Do you have a hammock, and it's gathering dust in the garage? The hammock can be useful to give your kids a fun time without spending even a dime. You can use your hammocks to create a recreational swing for kids in your home. Whether you create a swing in the backyard or your gym, these accessories are a great way to make improvised kid swings.
When improvising swings for kids using hammocks, consider all the precautions.
Ensure the hammock is lowly hung to avoid kid falls (not more than 2 feet)
Hang the fabrics loosely without using spreaders to prevent flip-overs
Avoid hammocks with large net holes
Always supervise your kids when using hammock-improvised swings
5. Aerial Yoga Hammocks
If you practice yoga, you can attest that it combines intense physical exercise and meditation. Specifically, aerial yoga allows you to practice yoga exercises and meditation while suspended in the air. If you have a hammock lying in your house, you can put it to better use. Using it for suspended yoga is one of the amazing alternative uses of your camping hammocks.  
Since the hammocks are tough, they can support your body weight efficiently. Instead of buying yoga mats, using the one in your home can give you a fantastic experience. Specifically, a net hammock provides all the necessary support to ensure you can do all moves without compromising your safety.
Conclusion
Hammocks are useful for multiple applications. Apart from use for leisure, they are superb for other improvisations. The tough nature and large fabrics mean you can use them for storage, gear organization, and other activities.
Apart from the mentioned uses, you can devise different ways to use your hammocks.