Raksha Bandhan, a celebration of the cherished bond between brothers and sisters, calls for a touch of uniqueness and creativity. This year, go beyond the conventional and surprise your brothers with Rakhi designs that truly delight. From the intricate folds of origami to the personalized charm of photo lockets, there's a world of creativity waiting to be explored. Imagine a Rakhi that grows into a beautiful plant or one that resonates with music – these ideas will add a distinctive flair to your festivities.
Here are nine creative online rakhi designs that you can consider to delight your brothers this Raksha Bandhan:
Origami Rakhi Design
Crafted with the artful precision of origami, these Rakhi designs are a true testament to creativity. Delicate paper folds intertwine to form intricate shapes, embodying the bond between siblings. Hearts, cranes, and flowers take life in vibrant colors, making each Rakhi a unique masterpiece. Origami Rakhis not only symbolize your artistic effort but also the intricate connection you share, ensuring this Raksha Bandhan is unforgettable.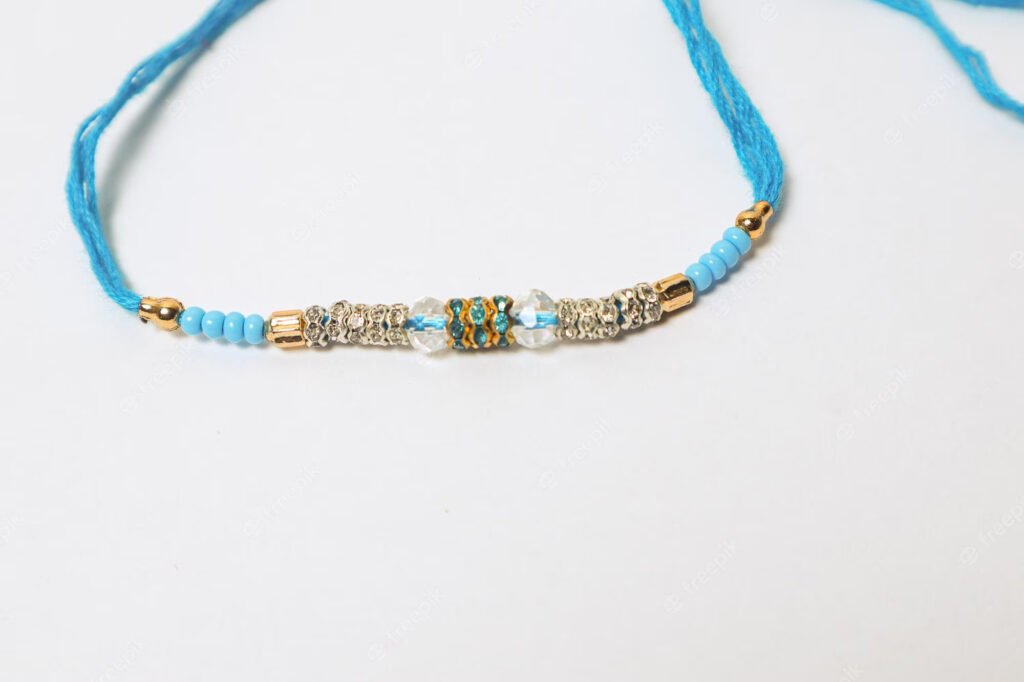 Beaded Rakhi Design
Elegant and captivating, Beaded Rakhis are a fusion of style and tradition. Vibrant beads of various sizes and hues are carefully threaded, resulting in a visually enchanting accessory. With endless combinations to choose from, you can tailor the design to your brother's preferences. These Rakhis not only adorn the wrist but also carry a piece of your creativity, making them a perfect embodiment of the sibling bond.
Photo Locket Rakhi Design
Capture the essence of memories with Photo Locket Rakhis. These Rakhis house a tiny locket that holds a cherished photo of you and your brother. With a simple touch, the locket opens to reveal the snapshot of your special moments together. It's a great way to remind your sibling of the close bond you share and the significance of the occasion. This Raksha Bandhan, let the photo locket Rakhi speak volumes of your affection.
Plantable Rakhi Design
Embrace eco-friendliness with Plantable Rakhis, a symbol of growth and connection. Crafted from biodegradable materials, these Rakhis contain embedded seeds. Once the festivities conclude, your brother can plant the Rakhi and watch it sprout into a beautiful plant. It's a meaningful gesture that represents the nurturing bond you share and the ever-growing love between siblings. This Raksha Bandhan, let your Rakhi be a symbol of sustainability and flourishing relationships.
Quilling Rakhi
Elevate the art of Rakhi with Quilling designs. Delicate strips of paper are meticulously rolled, shaped, and glued to form intricate patterns. These Rakhis exude elegance and creativity, showcasing your dedication to the occasion. With a wide range of colors and designs available, quilling Rakhis are a testament to the unique bond you share with your brother. Celebrate Raksha Bandhan with a touch of quilled beauty.
Leather Band Rakhi
Unveil a rugged charm with Leather Band Rakhis. These Rakhis feature a slender strip of leather, personalized with your brother's name or a heartfelt message. The durability of leather symbolizes the enduring bond between siblings. Let this Raksha Bandhan be marked by a unique Rakhi that resonates with your brother's individuality.
Embroidered Rakhi
Weave heartfelt emotions into your Rakhi celebration with Embroidered Rakhis. Intricate thread work forms names, symbols, or even tiny portraits, creating a truly personalized token. The time and care poured into crafting these Rakhis mirror the depth of your sibling connection. This Raksha Bandhan, adorns your brother's wrist with an embroidered masterpiece.
Musical Rakhi
Add a harmonious twist to Rakhi festivities with Musical Rakhis. These interactive Rakhis feature a tiny musical chip that plays a short tune or message. A press brings forth a sweet melody, resonating with the joyous spirit of Raksha Bandhan. Gift your brother a Rakhi that literally sings your affection.
Resin Art Rakhi
Elevate Rakhi gifting with Resin Art Rakhis. These captivating online rakhi gifts are crafted using resin and vibrant pigments, resulting in a glossy and translucent masterpiece. Each Rakhi is a unique work of art, symbolizing the colorful layers of your sibling bond. Celebrate Raksha Bandhan with a Rakhi that's as special and vibrant as your relationship.
Each of these unique Rakhi designs will add a personal touch to your celebration and make your brother feel extra special and you can also send the same day Rakhi delivery option . Remember to choose a design that resonates with your brother's interests and preferences for an even more meaningful gesture.