10 Luxury Resorts Near Delhi for A Lavish Experience of Indian Tourism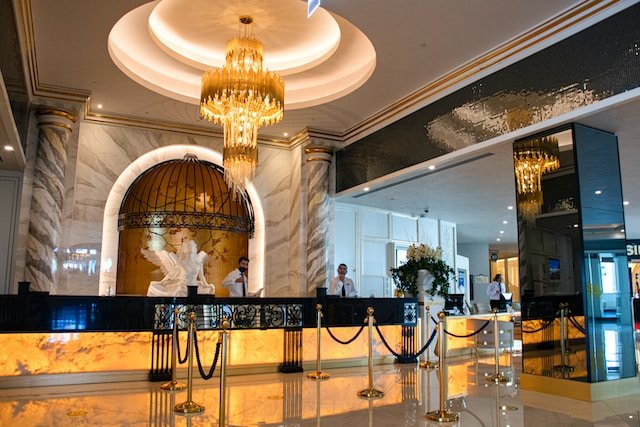 During our vacation, we all want to have luxurious experiences and one of the best ways to do so is by booking luxurious resorts. If you are planning a holiday to Delhi, a weekend away from Delhi, or want to book luxury Resorts Near Delhi, then you have numerous options to consider. These resorts will offer you the best luxurious experience that you are looking for. So this includes all the necessary amenities, spa facilities, pools, fitness center, great service round the clock, and more. So, let's check a few of the best resort options that you can consider booking during your Luxury Travel Places trip.
Best Luxury Resorts Near Delhi For A Luxurious Stay
1. The Roseate
Among the luxurious Resorts Near Delhi, Roseate is an urban-styled resort. Spread across 08 acres between lush green and water bodies, the hotel has award-winning architecture and offers high-end services to guests. The Roseate is located at a distance of 19 kilometers from Delhi on the national highway, close to Indira Gandhi International Airport. This luxurious resort got its name from the royal outlook of 18th-century fort style and rose-coloured décor. The place is perfect for both business and leisure travelers.
2. ITC Grand Bharat-
ITC is well-known in the hospitality industry. It has an expectation and brand value in the market and ITC Grand Bharat serves both to guests. It is another Luxury resort in India near Delhi located in Mewat, Gurugram. Indira Gandhi International Airport is the nearest airport. ITC Grand Bharat is situated along the majestic Aravalli Hills and offers stunning views of the range. It is spread over a 1.3-kilometre area, having 100+ suites, a spa, 04 dining areas, golf course, and serves supreme services to guests.
3. The Oberoi Amarvilas-
Another in the list of resorts near Delhi, Oberoi Amarvilas is located in Agra and is one of the best places to stay in Luxury India Tour Packages. Showcasing magnificent Mughal architecture, the hotel offers an unexceptional and unforgettable stay to guests in an extravagant ambience. The hotel ground is dotted with lawns and fountains which will remind you of a movie scene. Hence, this is one of the best places for your stay and consider booking it when planning your Luxury India Tour Packages.
4. Neemrana Fort Palace-
Nothing speaks of luxury more than a place known for royalty. Neemrana Fort Palace is one of the Resorts Near Delhi where you should plan a stay during luxury India tour packages. Neemrana holds a place in Indian history that now has been renovated as a luxury hotel boasting royalty, luxuries, traditions, modernity, hospitality, and history. The hotel is located 100 kilometers from Delhi near Alwar on the Delhi-Jaipur highway.
5. The Tree House Resort-
Skip the traditional resort and turn towards nature with this luxury Resort Near Delhi. If you are looking for something different than usual royal resorts then Tree House Resort is a perfect pick. Away from the city's hustle and bustle, located in the Syari Valley foothills, offering good views of the Aravalli hills, it offers you tons of opportunities to stay close to nature. It is located 200 kilometers from Delhi in Jaipur and is surrounded by natural beauty and farms. Though it's quite far but worth every effort.
6. Damdama Lake Resort-
Located in a 20 acres area around the Aravalli hills, Damdama Lake resort is one of the Luxury Hotels in India to stay in during the golden triangle tour. The resort is famous for two reasons, first is its impeccable services and high-end amenities to offer the best comfort to guests, and second is its proximity to Indira Gandhi International Airport. The iconic location of the resort near Damdama Lake, surrounded by natural beauty makes it a perfect weekend getaway luxury travel place.
7. Heritage Village Resort and Spa-
If you are planning a leisurely vacation, then Heritage Village Resort and Spa is one of the best Resorts Near Delhi. It is a resort with a built-in spa to deliver holistic value and signature treatments to guests. It has everything you need to pamper yourself on a vacation. Located on the Delhi-Jaipur highway, in Gurugram, this luxury resort in India has been awarded a National Tourism Award by the Indian government for heritage-styled décor and unexceptional high-end services.
8. The Westin Resort & Spa-
It is one of the Luxury Resorts in India with a signature style to provide extravagant vacations to guests with horse riding, aqua zorbing, cycling, fishing, stargazing, and many other activities. Located near Gurgaon in Sohna, it has a spa to go for a rejuvenating session. This modern resort offers tons of amenities to guests for a luxury experience.
9. Chokhi Dhani Resort-
Chokhi Dhani is a 5-star resort in Jaipur. So it promotes Rajasthani culture and heritage and offers various accommodation types to visitors. Guests can choose from lavish suites to chic cottages that are enriched with ethnic designs. There are around 08 different restaurants that serve authentic Rajasthani cuisine. Guests can enjoy various recreational facilities along with Ayurvedic massage sessions at their spa center.
10. Surjivan Resort-
Located 29 kilometers from Delhi in Gurugram, it is one of the best resorts near Delhi to spend a weekend in. The location will bring you near to nature. Surjivan Resort offers signature tours with activities like zorbing, tractor safari, wall climbing, rock climbing, and more. If you are looking for a classic place to stay, away from the city's hustle-bustle, amid natural elements, book your stay here.
Conclusion
The best way to go on a Luxury India Tour and experience luxury living is by booking Luxury India Tour Packages with LIH Travel. So, if you are planning a much-needed break and want a luxury experience, then book your travel with LIH Travel.